Jean-Guy Levesque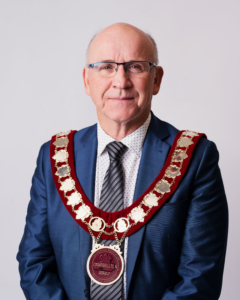 Le maire Jean-Guy Levesque est natif de Val D'Amours. Il détient un baccalauréat en enseignement d'éducation physique et une maîtrise en administration scolaire. Il a fait carrière comme enseignant, à la direction d'école et comme directeur général d'un district scolaire.
Il a été très engagé dans le bénévolat en tant que co-président du Festival des Sommets, président du comité pour le plan de développement économique et communautaire d'Atholville (2016-2021), président du Regroupement des directions générales du Canada en éducation et président du DSL de Val D'Amours. Au niveau sportif, il a été président de la programmation sportive des Jeux de l'Acadie Finale provinciale, entraineur et arbitre de divers sports et membre de divers comités locaux, régionaux, provinciaux et nationaux.
Le maire Levesque est en politique municipale depuis 2015 et été maire d'Atholville de 2021-2022.
Il s'est présenté à la mairie de la Communauté régionale de Campbellton parce qu'il aime sa région du Restigouche et les défis. Il espère pouvoir aider à mettre en place une fondation afin que la communauté devienne une ville fière, accueillante et vibrante! Il a été élu maire le 28 novembre 2022 et est entré en fonction le 1er janvier 2023, lorsque la nouvelle Communauté régionale de Campbellton a vu le jour.
Il aime bouger en faisant de la marche, de l'escalade, du vélo, de la raquette, etc. Il aime voyager, particulièrement en Europe et faire du camping. Lui et son épouse Diane ont quatre enfants et quatre petits-enfants.
Jean-Guy Levesque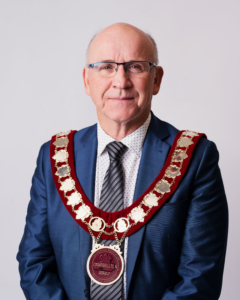 Mayor Jean-Guy Levesque is a native of Val D'Amours. He holds a bachelor's degree in physical education and a master's degree in school administration and has spent his career as a teacher, school principal and school district superintendent.
He has been very involved in volunteer work as Co-chair of the Summit Festival, Chair of the committee for Atholville's Community and Economic Development Plan (2016-2021), President of the Regroupement des directions générales du Canada en éducation and Chair of the Val D'Amours LSD. At the sports level, he was President of the sports program for the Jeux de l'Acadie provincial final, a coach and referee for various sports, and a member of various local, regional, provincial and national committees.
Mayor Levesque has been in municipal politics since 2015 and was Mayor of Atholville from 2021-2022.
He ran for Mayor of the Campbellton Regional Community because he loves the Restigouche area and the challenges it presents. He hopes to help build a foundation to make the community a proud, welcoming and vibrant city! He was elected mayor on November 28, 2022, and took office on January 1, 2023, when the new Campbellton Regional Community came into existence.
He likes to keep active by hiking, climbing, cycling, snowshoeing, etc. He loves to travel, especially to Europe, and camping. He and his wife Diane have four children and four grandchildren.