Link to: ÉVÈNEMENTS COMMUNAUTAIRES / COMMUNITY EVENTS
100e anniversaire du nom « Atholville » – Plaque commémorative

Nous invitons la population de la Communauté régionale de Campbellton à faire une promenade dans le secteur d'Atholville pour découvrir l'histoire de certains établissements de l'ancienne municipalité. Découvrez l'histoire de ces installations à travers des plaques commémoratives qui ont été installées sur les établissements dans le cadre du 100e du nom d'Atholville.
Circuit historique : https://bit.ly/42OZBEI
A. Patinoire extérieure : 104, rue Mair
B. Piscine extérieure : 235, rue Notre-Dame
C. Hôtel de ville : 247, rue Notre-Dame
D. Salle Alma : 256, rue Notre-Dame
E. Bibliothèque publique Raymond Lagacé : 275, rue Notre-Dame
F. Moulin AV Cell : 91, rue Mill
G. Gazebo : chemin Boom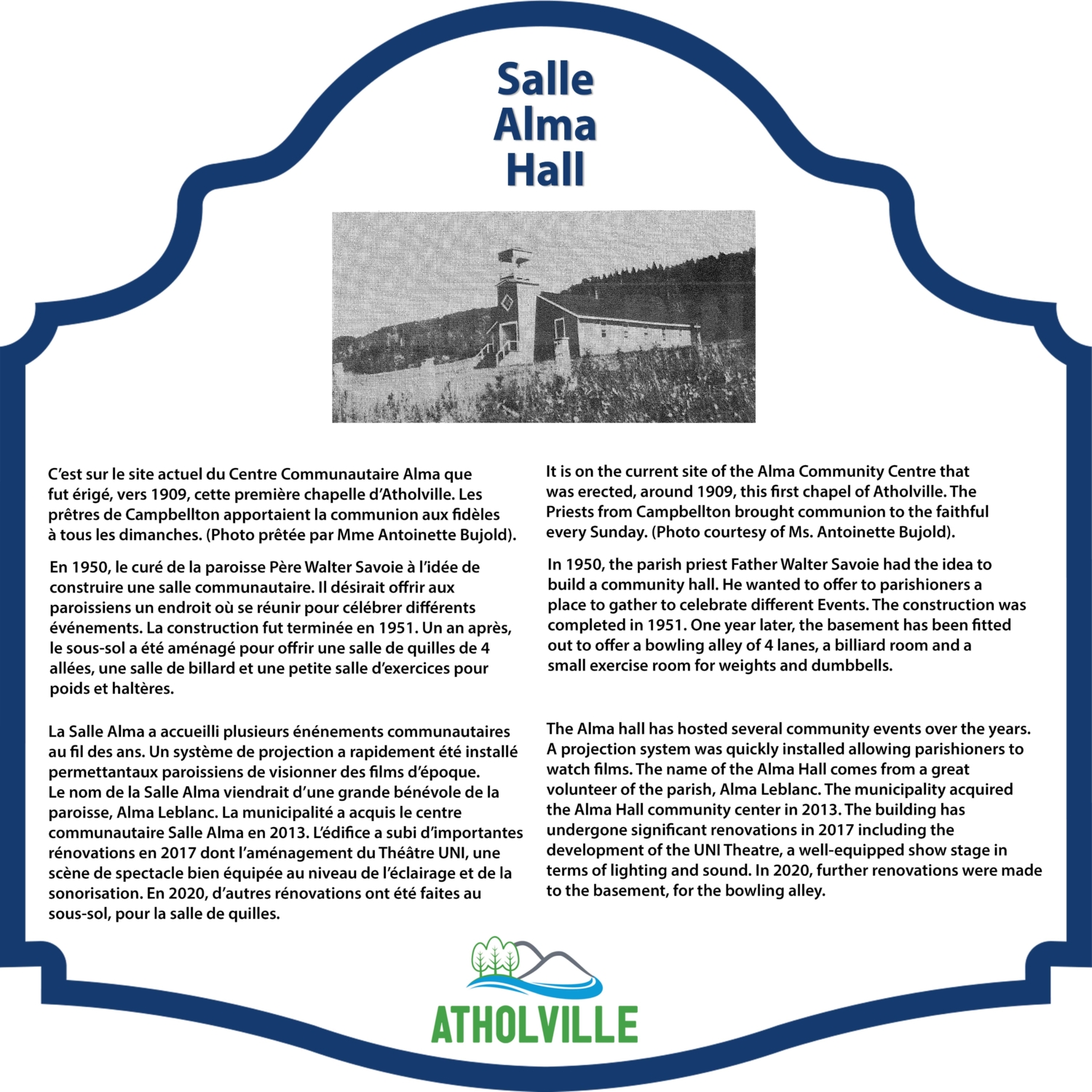 ---
100th anniversary of the name "Atholville" – Commemorative plaque

We invite residents of the Campbellton Regional Community to take a walk in the area of
Atholville to discover the history of some settlements in the former municipality. Learn about the history of these facilities through commemorative plaques that have been installed on establishments as part of the 100th anniversary of the name of Atholville.
Historical circuit: https://bit.ly/42OZBEI
A. Outdoor rink: 104 Mair Street
B. Outdoor pool: 235 Notre Dame Street
C. Village Hall: 247 Notre Dame Street
D. Alma Hall: 256 Notre Dame Street
E. Raymond Lagacé Public Library: 275 Notre-Dame Street
F. AV Cell Mill: 91 Mill Street
G. Gazebo: Boom Road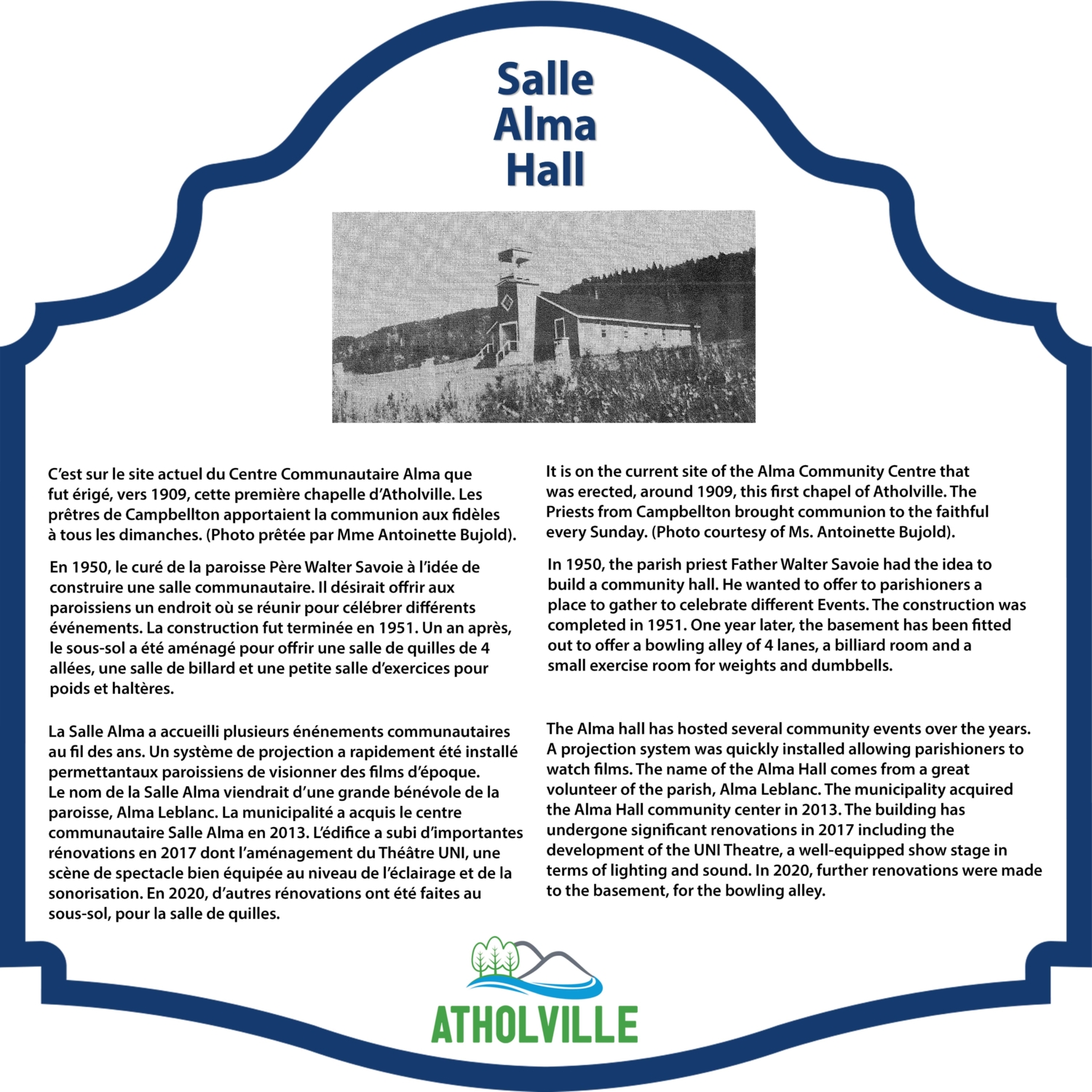 PHOTOS – Levers et couchers de soleil
La Communauté régionale de Campbellton est à la recherche de photos de lever ou de coucher de soleil de notre merveilleuse municipalité. Ces photos seront placées dans des panneaux d'affichage près du Parc de kiosques sur le secteur riverain pour que tout le monde puisse les voir et en profiter.
Exigences :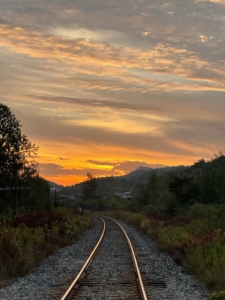 Les photos doivent être des levers ou couchers de soleil situés dans la Communauté régionale de Campbellton.
Nous aurions besoin de photos haute résolution pour assurer une bonne clarté (puisque les photos
 seraient agrandies pour les panneaux d'affichage).
Veuillez indiquer l'endroit où la photo a été prise et une petite description (maximum de deux lignes).Si vos photos sont sélectionnées, nous vous fournirons la reconnaissance que vous méritez en affichant votre nom sur les photos.
Un comité de sélection choisira les photos. Veuillez noter qu'il y a 12 espaces pour les photos.
Date limite : 2 juin 2023.
Si vous pensez que l'une de vos photos conviendrait à notre objectif et que vous êtes prêt à partager, nous serions heureux d'avoir de vos nouvelles. Veuillez envoyer la ou les photos par courriel à l'une des adresses suivantes : [email protected] ou [email protected].
---
PHOTOS – Sunrises and sunsets
The Campbellton Regional Community is looking for sunrise or sunset photos of our wonderful municipality. These photos will be placed in display panels near the Kiosk Park along the waterfront for all to see and enjoy.
Requirements: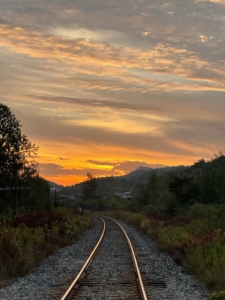 The photos must be of the sunrises or sunsets located within the Campbellton Regional Community.
We would require high-resolution photos to ensure proper clarity (as the photos would be enlarged for the display panels).
Please provide the location the photo was taken and a small description (maximum of two lines).
Should your photos be selected, we will provide the acknowledgment you deserve by displaying your name on the photos.
A selection committee will choose the photos. Please note, there is room for 12 photos.
Deadline: June 2, 2023.
If you believe any of your photos would suit our purpose and are willing to share, we would be happy to hear from you. Please send the photo(s) by email to one of the following addresses: [email protected] or [email protected].
(English follows)
 PROMOTION PLUS 2023
La Communauté régionale de Campbellton sera présente à Promotion Plus cette année. Cet évènement se déroulera les 12-13-14 mai au Centre civique Mémorial régional. Quels sont les avantages de visiter notre kiosque?
La chance de gagner un panier cadeau incluant un iPad.
L'occasion pour les petits et les grands de jouer au lancer de sacs de haricots et de gagner des prix.
La possibilité de recevoir des informations relatives aux attractions municipales.
La chance de garder un souvenir de votre visite à notre kiosque en prenant un autoportrait avec notre cadre découpé à photo.
L'occasion d'échanger avec nous, de partager vos idées et d'être informé de ce qui se passe dans notre belle communauté.
Quelle belle occasion d'en apprendre plus sur la nouvelle Communauté régionale de Campbellton !
Pour plus de détails sur l'évènement, visitez notre page Facebook : https://bit.ly/3M5ddpE.
Au plaisir de vous y voir !
---
 PROMOTION PLUS 2023
The Campbellton Regional Community will be present during Promotion Plus this year. This event will take place on May 12-13-14 at the Memorial Regional Civic Centre. What are the advantages of visiting our booth?
The chance to win a gift basket that includes an iPad.
The opportunity to play bean bag toss for the young and the young at heart and win some prizes.
The option to receive information related to municipal attractions.
The chance to keep a souvenir of your visit to our booth by taking a selfie with our "photo cutout board".
The opportunity to talk with us, share your ideas and be informed of what's coming up in our beautiful community.
What a great opportunity to learn more about the new Campbellton Regional Community!
For more details of the event, visit our Facebook page: https://bit.ly/3M5ddpE.
We look forward to seeing you there!